Condensed summary of the Proposed Cross Island Line Site Investigation Environmental Impact Assessment Report
The complete report of the Final Site Investigation Environmental Impact Assessment reports can be found in the LTA website. Here is a brief summary of the Executive Summary and the 4 volumes. The 50 km long Cross Island Line (CRL) proposed in 2013 will connect the east/ northeast and west of Singapore. The Land Transport Authority (LTA) is considering two alternative alignments of the route as the first route that was initially proposed cuts through the Central Catchment Nature Reserve (CCNR), a gazette nature reserve. The CCNR, which encompasses the MacRitchie, Upper and Lower Pierce and Upper Seletar reservoirs is the country's largest patch of primary rainforest. Home to more than 499 species of plants (reference Mr Wong Yew Kwan's research), 218 species of birds, 30 mammals, 24 freshwater fish species, and 17 species of amphibians.
[NOTE: This is just Phase 1 of the EIA. The focus is purely on the impact of the nature reserves if the various intrusive soil investigations are carried out in the forest. The study on the impact due to construction of the tunnel underground will be conducted in Phase 2 at the second half of the year. The concern is mainly with the possible impact on the SURFACE of the nature reserves.]
| | |
| --- | --- |
| Route 1 | Route 2 |
| Beneath approximately 1.8 km of CCNR MacRitchie forest | Approximately 9 km skirting boundary of the CCNR |
| From the Singapore Island country Club Island golf course to PIE, through CCNR, then south of Lower Peirce Reservoir, north of MacRitchie Reservoir | Under residential developments bounded by the MacRitchie forest and Upp Thomson Rd, run west beneath Lornie Rd, turn north at Adam Rd under PIE |
| No aboveground structures | Potentially could now have station to serve residence from Thomson road, Andrew Rd, Mt Alvernia Hospital, Adam Rd, Bt Brown (keeping the cemetery grounds still intact) and Eng Neo. |
| Route will cut through different habitats in the CCNR including Regeneration Forest A, ancient Primary forest, sensitive and rare Wetland forest and marsh | Route skirts round nature reserve. |
Map from Site Investigation Environmental Impact Assessment Report – Volume II Environmental Baseline Report
Environmental Impact Assessment (EIA)
The LTA has commissioned a two-phase Environmental Impact Assessment (EIA) for the construction of the CRL. The soil investigation will help the LTA assess both routes and determine if the ground is suitable for tunnel construction.
Phase 1: To assess the possible impact of the soil investigation. Conducted between August 2014 and December 2015.
Phase 2: To assess the potential environmental impact arising from the construction and operation of the CRL. Expected completion by end-2016.
Impact Study
Surveys and reconnaissance were conducted within 600m wide corridors to estimate the impact in 5 environmental aspects.
| | | |
| --- | --- | --- |
| Environmental impact | Impact Significant along Alignment Option 1 | Impact Significant along Alignment Option 2 |
| Surface water quality | Moderate | Negligible |
| Ambient noise | Moderate | Negligible – minor |
| Vibration | Minor | Minor |
| Ambience air quality | Minor | Negligible |
| Ecology & Biodiversity | Moderate – major | Negligible – minor |
Conclusion from Phase 1 assessment, with mitigating factors, the impact on the environment is expected to be "moderate" for route 1. Looking at the Impact significance it should be clear that Option 2 is a less impactful option and should be considered for the soil investigation and hold back the test for Option 1.
"An impact of moderate significance has an impact magnitude that is within applicable standards, but falls somewhere in the range from a threshold below which the impact is minor, up to a level that might be just short of breaching a legal limit. Clearly, to design an activity so that its effects only just avoid breaking a law and/or cause a major impact is not best practice."
The 2 alignment options in the CCNR area would consist of twin bored tunnels. Each tunnel would be 6 m wide and spaced approximately 6 m apart.
Soil investigations will need 16 rotary boreholes, 70 m to 100 m deep, to be drilled in the nature reserves and another 29 boreholes in the surrounding forests.
The boreholes will be generally 25 m apart outside the CCNR. 
Intrusive Ground Investigation
This will include using 3 techniques:
Mackintosh probes
Rotary boreholes
Horizontal directional coring
2 main types of vehicles are required to drive into the nature reserve asRotary drill is often accompanied by a "water truck" to transport water and remove waste water during drilling:
to transport the drilling rig (Crawler mounted A-Frame drilling rig or Deltabase 520 drilling rig)
to transport water and removing wastewater from each borehole (S25A)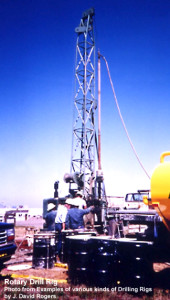 Access road or trails are Sime Track, Golf Link, Terentang public trail, MacRitchie Nature Trail, tracks within the SICC golf courses. Some parts of the trail is only 1.5 m wide. The crawler is about 1.9 m wide. Vegetation at the side of the trail will be affected. Other supporting heavy vehicles needed for the soil investigation include Lorry Crane and Cabstar Lorry. To understand better how these drill rig works check out the youtube videos: Deltabase 520 drilling rig Rig Deomstration
The rotary drill rig requires a steady supply of water during operation. About a tonne (1000 kg) of water is transported into the nature reserve for the operation by a vehicle (S25A) which weighs about 2,400 kg. The trails in the nature reserves may be damaged by the weight of these vehicles as they travel in and out of the nature reserve.
"The outcome is that we are going to have more damage caused to the roots by the machines carrying the water in and out, so we are not looking at 16 boreholes worth of damage. We are looking at 1.8 kilometres stretch of damage of 3.4 tonnes six times a day for nine months," said Wijedasa, who formerly oversaw the maintenance of the health of the trees in the Botanic Gardens.

[Source: Yahoo News]
Summary of the 3 techniques for Route 1
| | | | |
| --- | --- | --- | --- |
|   | Mackintosh probes | Rotary boreholes | Horizontal directional coring |
| Number of hole | 9 | 16 | 3 |
| Drilling depth | 15 | 70 – 100m | – |
| Size of hole | | 10 cm | – |
| Footprint of work site/ crawler bringing equipment to site/ Height during movement | – | 2.24 m – 2.8 m long 1.5 – 1.9 m wide 1.3 m – 2.5 m high | 35 m by 20 m |
| Weight of probes/ crawler | 4.5 kg | 2 tons – 6.5 tons (2,000 – 6,500 kg) | – |
| Footprint of S25A to transport water | – | 2.0 m long 1.8 m wide 1.7 m – 2.4 m height | – |
| Weight of S25A | – | 2, 430 kg + 1,000 kg water | – |
| Number of trip a day | – | 2 – 10 round trips a day | – |
| Duration of drilling operation | 5 days | 12 – 18 days | 24 months of 24 hours drilling at each location |
Details of boreholes
| | |
| --- | --- |
| Location inside the CCNR | Number of Boreholes |
| Existing trails within CCNR (Sime & Terentang Trails | 10 |
| Located slightly off trail but within existing clearings in CCNR | 2 |
| Kalang Servoir Reservoir Rd off Island Club Rd | 4 |
| TOTAL | 16 |
| Location outside the CCNR | Number of Boreholes |
| Windsor Interim Green | 3 |
| Northern part of Bt Golf course | 18 |
| Along Sime trail | 8 |
| TOTAL | 29 |
Horizontal directional coring location
Between PIE and Fairway Drive
North of Bt Golf Course
Within Kalang Service Reservoir compound, east of CCNR
Consequences
Impact significance was reported to be moderate to major for the Ecology and Biodiversity.
Destruction of vegetation especially saplings along the trails where the vehicles pass.
Soil erosion and compaction of the soil would be a result of the use of heavy vehicles for soil investigation.
Route diversion and closure of trails would inconvenient park users
Route closure may result in park users creating this own trails and result in trampling of delicate samplings as seen during the closure of BTNR for maintenance work.
Image: http://www.todayonline.com/sites/default/files/20160110_cross_line.jpg
You can download the Final Site Investigation Environmental Impact Assessment reports to read in greater detail.